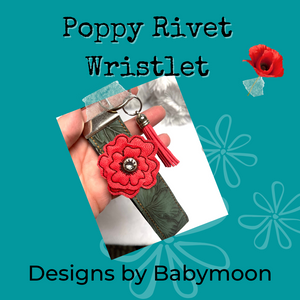 Poppy Rivet Wristlet Keyfob 5x7 6x10 8x12
Regular price $4.99 $4.99 Sale
This is the sweetest wristlet design that includes the files for both the strap in 4 different sizes and the Poppy Flower!   Make them in separate hoopings with contrasting and coordinating embroidery vinyl for a beautifully finished keyfob wristlet!   You will need embroidery vinyl, snaps or rivets to attach the flowers, something to punch holes like a crop-o-dile or awl, and the tools to set the rivets or snaps and pliers to close the wristlet hardware. You can add additional embellishments like tassels or beaded charms to the hardware, too! 

Please note that there is extra stitching to define the center of the top layer sunflower. You can stitch this through both layers of vinyl OR stitch just through the top layer if you put the top layer of vinyl down first.  
It's simple to make! There is a fully illustrated PDF tutorial included in your design file set. Design File set includes straps that are 7", 7.5", 10" and 12" long and flowers for a single in a 4x4 hooping or a set of three in a 5x7 hooping. 
Strap Files: 
7" SINGLE for 5x7 hoops: 7.02" x 1.02" 602 Stitches
7" set of 3 for 5x7 hoops:  7.06" x 3.89" 1809 Stitches
7.5" SINGLE for 5x7 hoops: 6.32" x 4.94" 632 Stitches
10" SINGLE for 6x10 hoops:  9.98" x 1.10" 814 Stitches
10" set of 3 for 6x10 hoops: 10.01" x 4.36" 2455 Stitches
12" SINGLE for 8x12 hoops: 11.58" x 1.06" 914 Stitches
12" set of 3 for 8x12 hoops:  11.58" x 4.40" 2739 Stitches
Poppy Files:
Poppy SINGLE SET  2 sizes of flower layers for 4x4 hoop: 2.83" x 3.20" 1067 Stitches
Poppy set of 3 - 2 sizes of flower layers for 5x7 hoop: 6.32" x 3.83" 3211 Stitches
 Check out the video tutorial of how to do these! https://youtu.be/cDFGLihJHj0
You are getting a design file that will show up in your account only.  No physical products will be mailed to you.  
Your design will include the following formats: DST, EXP, HUS, JEF, PES, XXX, and VP3.  Please contact me if you want this in a different format. I am happy to convert it for you! 
Thanks for shopping at Designs by Babymoon.  Please check out my other snap tab designs and try something else new!