Got just a couple of minutes? Watch this video to see how easy it really is to stitch up your own Freestanding Lace Earrings from the design files from Designs by Babymoon. I walk you through exactly what supplies you need and show you step by step how to prepare, stitch, and finish up your beautiful earrings. You can be out the door with a beautiful new pair of earrings that you made yourself on your home embroidery machine in less than an hour!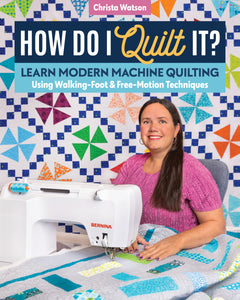 Book Review: How Do I Quilt it? by Christa Watson, July 2022, C&T Publishing ISBN 978-1-64403-080-6 #howdoiquiltit #christaquilts  
If you've ever been frustrated by the dreaded instruction to "quilt as desired" at the end of a piecing pattern, Christa Watson fills in all the blanks for you and holds your hand through the entire process! She doesn't leave any part of the quilt, and even includes methods to bind your quilt.  The meat of this book, though are so many ways to consider quilting your quilt on your domestic sewing machine.  Whether you are just starting your quilting journey or have been quilting for years, there are good things for you in Christa's new book! I encourage you to dive in with me and have a look!